For Peter LaGreca, one of his most prized possessions is his car. He currently drives an '03 Cobra, also commonly known as the Cobra Terminator.
The '03 Cobra Terminator is a prime example of a Cobra's impressive capabilities and style.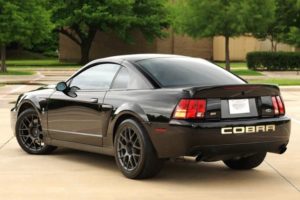 Known for its great strength and durability, the Cobra Terminator engine is supercharged and is made up of a few distinct components found specifically in Cobra's, making it unlike any other modular engine. Peter LaGreca takes great care of the engine to ensure his Cobra continues riding smoothly for years to come.
Built from the years 1993 to 2004, by Ford's Special Vehicle Team (SVT), the Cobra is a high-performance muscle car and version of the Ford Mustang.
The Ford Motor Company
120 years ago, Henry Ford built his first every vehicle, a Quadricycle with a four-horsepower engine and a tiller instead of a steering wheel. A few years later in 1903, the Ford Motor Company was incorporated and has achieved great success selling automobiles and commercial vehicles ever since. It is now recognized as one of the largest and most profitable companies in the world, still under family control for over 100 years and counting.
Peter LaGreca has great admiration and respect for Henry Ford and the history of the Ford Motor Company. When the company was just starting out, only a few cars were being produced each day. Men in groups of two or three were assigned to work on and assemble each car with parts made largely from supplier companies. However, within its first ten years, Ford introduced the concept and refinement of the assembly line, reducing assembly line times from 12.5 hours to 1.5 and creating a manufacturing revolution all across the world in the process.
Knowing the great history of Ford and the innovative technology they have created, Peter LaGreca drives his Cobra Terminator with a great sense of pride.
To learn more about the Cobra Terminator and cars in general, check out Peter Lagreca on Quora: https://www.quora.com/profile/Peter-Lagreca.